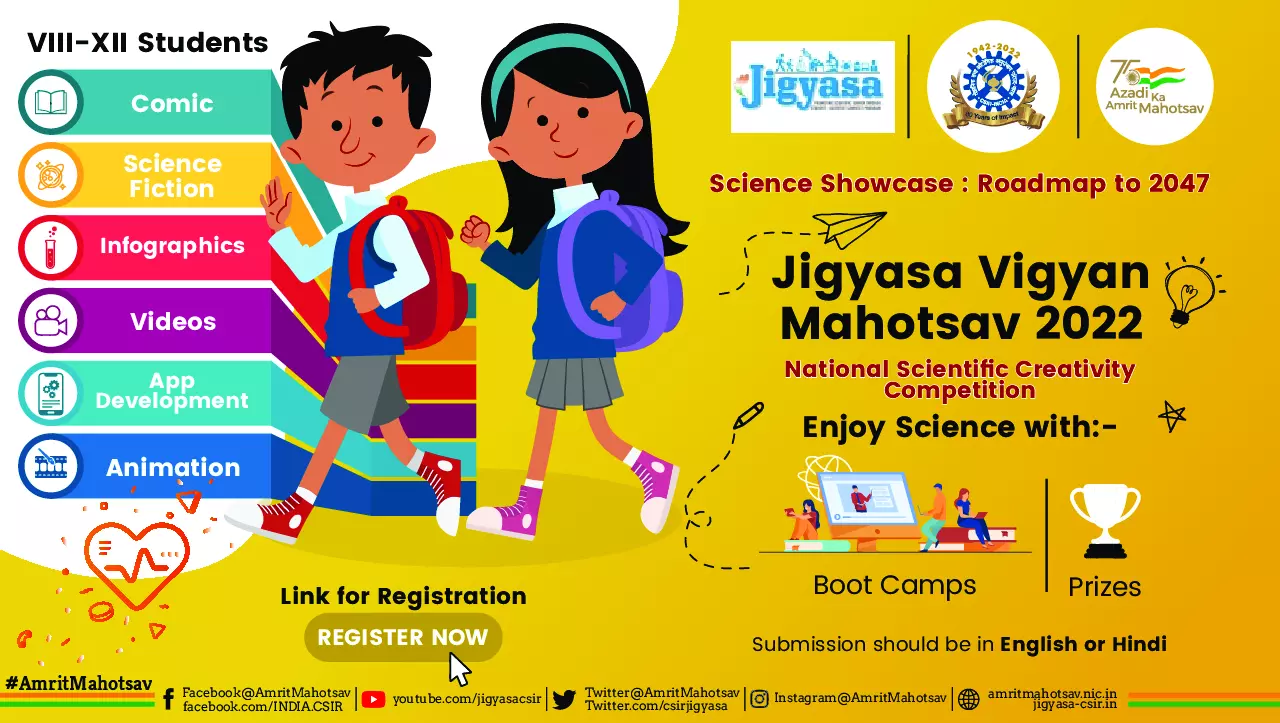 India is Celebrating 75 years of Independence as Azadi Ka Amrit Mahostav across the country. As a part of this, Amrit Mahotsav Science Showcase: Roadmap to 2047  celebration, is being conducted by Ministry of  Science & technology. Council of Scientific and Industrial Research under Ministry of S&T, is organising a National Level Scientific Creativity Competition Jigyasa Vigyan Mahotsav 2022".
This competition is to provide an opportunity to school children to exhibit their creative skills and also develop their scientific knowledge and win attractive prizes!!
The competition would be held in contemporary science and technology areas of:

Energy
Health
Artificial Intelligence
Climate Change
Water Conservation
Disaster Mitigation
Agrotechnology
In this competition, School Students can highlight their creativity by :

identifying issues/ knowledge gaps
challenges faced
create awareness
identify solutions
futuristic visions etc
in these areas. The students are encouraged to exhibit their creativity in any of the topics in the themes and choose any one of the format of Comics/ Videos/ Infographics/ Science Fiction/ Apps/ Animation  to convey their ideas/ solutions.
The children will be evaluated for their creativity; innovative ideas; story telling ability; message conveyed; overall aesthetics; out of box thinking; usability or applicability in case of apps/ videos/ animations. Students have the opportunity to compete at National level and win Prizes. The top content developed would also be showcased on CSIR Jigyasa Virtual Lab platform for global outreach.
Energy is the crucial currency of 21st world. It's difficult to imagine a day without energy, as it drives our daily life requirement as well as industrial development. Since ages, conventual energy sources like petrol, diesel, coal, etc., has been used to meet our energy demand. But they are in limited level as well as harmful to our environment causing global warming. Renewable energy is a clean and sustainable solution for meeting our energy demand as well as keeping Mother earth safe. Thus, development of clean and sustainable energy resources has become important. Clean energy solutions like solar energy, wind energy, green hydrogen energy, thermal energy, tide energy, electrical vehicle, mechanical energy, vibrational energy, etc., are the new energy currencies of 21st centuries. Clean Energy generation, efficient utilization, awareness, education, etc., are the key challenging areas for the current and next generation to meet sustainable development goals.
Health is relevant to all of us – humans, animals, plants and every life form on earth. With the spread of COVID-19 in the last two years, health has become a major priority of the world, nation as well as the human. To be healthy has become a major priority of every human being to be alive on this planet. 
Our health is determined by microbes around us. There are disease-causing microbes as well as microbes that keep us healthy. Our genetics contribute to our health. So, does our lifestyle. 
Diagnostics, treatment, counselling and education, development of healthcare infrastructure are some of the key ways to address the healthcare challenges. Which are some of the ways you can contribute to improving the health of India?
Data is being fed by humans to objects and these are being mimicked by robo's and machines which are fitted in objects. The movement of intelligence from human to objects is termed as Artificial Intelligence. We all hope, that this transformation does not make humans less efficient. Due to rapid technology a situation has risen to prove humans bigger than AI. In other words, we have to keep challenging the AI and also keep in mind that AI comes with lots of benefits as well. Among them problem-solving is most dominant one. Kids are found to develop enhanced problem-solving skills, while using AI. This is necessary for surviving in technology dirven era. To stay uptodate, these skills could be learnt and updated to stay upright with the changing technology. Jigyasa Vigyan Mahotsava 2022 is a wonderful way of demonstrating and democratizing such skills by developing solutions offered by AI.
We invite and challenge all young Girls & Boys (8-12th Standards), to participate in this challenge and showcase their skills and, win prizes as well.
Register yourself now.. AI is waiting!!
You all may be aware that we are all worried about the climate since past many decades for several reasons. We are aware that our life on earth is depended on the energy we get from the sun. This light travels through the earth's atmosphere and passes through the clouds and air to reach us. The greenhouse gases absorb most (90%) of the heat and radiates back to the surface. We know that certain gases in the atmosphere block heat from escaping. Long lived gases also remain partially in the atmosphere and do not respond to changes in the temperature. Nitrous oxide, chlorofluorocarbons, water vapor, carbon dioxide and methane as we know contribute to the greenhouse effect. The climate change is clearly visible in phenomena's such as shrinking ice sheets, glaciers retreat, decreased snow cover, rise in sea level, increased rain fall, ocean acidification etc.
Climate Change experts are trying hard to convince us to follow guidelines time and again for controlling, monitoring and reducing the climate change which is significantly changing. By and large we as humans and our activities are the primary drivers of these changes.
Through this competition, friends, we request you to bring awareness and encourage our community to curb climate change. You can help to convey your strong message by choosing one or more of the activities like animation, comics, science fiction, lay guidelines, precautions, posters, infographics or simply by building an app so that we could choose the best ones and make a significant impact on the minds of your friends, seniors and others on the adverse effects of climate change and how we can encourage to eliminate by being good citizens and eradicate the menace drastically. We call upon you to come forward and initiate the first steps before it is too late.
Water is the most essential, perishable, and precious resource on earth. Freshwater supply to the majority of our population is deteriorating day-by-day and hence, conservation of water is predominantly important. Implementation of scientific means and methods to conserve water is absolutely the need of the hour and the innovations and thoughts on this domain can be matched, but not limited to the below-given themes:
(1) Means to reduce water pollution,
(2) Methods for redistribution of water,
(3) Ideas for rational use of groundwater
(4) Ways to renovate water resources
(5) Use of novel irrigation systems. etc
Disaster mitigation is defined as "Measures aimed at reducing the impact of natural or man-made disasters in a nation or community". We have witnessed natural calamities like earthquake, cyclone, Tsunami, landslide, etc. and also manmade disasters like industrial hazard, war, fire, famine, corona virus etc.
Disaster Mitigation is the cornerstone of emergency management and is an evolving/ developing science. For example, to eradicate the threat of an epidemic or pandemic that is claiming lives through different measures/ strategies initiated/ handled for its eradication.
Mitigation is therefore, a process justified and necessary for the protection/ risk reduction measures intended to minimize the effects of a hazard. Effective measures for mitigation involve understanding of hazards and the likely damages in the event of a disaster. It requires systematic and logical planning to ensure that resources allocated adequately reduces the risk, and protects development.
You may think of developing a creative solution for mitigation of disasters using comic, science fiction, infographics, videos, apps or animations in the areas: Promoting and encouraging R&D through creating a network of national laboratories; upgrading of skills of professionals by providing state-of-the-art training; establishment of a control Room for information collation, dissemination of information to the general public, ensuring; availability of basic facilities such as water, food and shelter during and in the aftermath of a disaster; enforcement of preventive measures that can provide support during disaster.
Rising global population is leading to a continuous increase in global food demand. Therefore, in order to achieve sustainable development goals (SDGs), there is a strong need to find sustainable solutions for emerging challenges in agriculture sector. Agro-technology may provide innovative methods and automated mechanisms aiming towards efficient production, high yields and profitability of farmers and allied sectors. These include, precision farming, drones, harvesting as well as post harvest technologies contributing towards simplified agriculture worldwide.
Agriculture industry is booming right now with revolutionized automation and robotics, however, there's a lot more to do. What are the problems and challenges you find around you? What's your idea for providing solutions by innovative agro-technology? If you are really willing to contribute, you are welcome to submit your idea as a comic, or writing a science fiction, in the form of infographics, by developing a video or an app and also through animations.
Submission of Creative Content:
Students will create the content and submit their entries to CSIR. Expert Committees would evaluate the content submitted. Short listed candidates will attend the Finale Function in last week of February 2022. Final Results will be announced in the Fianle Function as part of the Azadi Ka Amrit Mahostav Celebrations by Ministry of Science and Technology. There will be attractive cash prizes for the final winners.    It is open to ALL class VIII – XII students across India.
Science Comic Competition
Relive your childhood reading comic books by creating your own comic story and combine it with your knowledge in science!! Comics are the effective medium of communication and engaging students. It should be creative, easy to understand, narrative, engaging. The comic can be built on the theme of Energy, Health, Artificial Intelligence, Climate Change, Water Conservation, Disaster Mitigation and Agro-technology. Comic character and art work can be either hand made or digitally drawn.
The comic art and story should be original and unpublished. Mode of language can be Hindi/English. Comics are required to be submitted in MS-Word format only and should not be more than three pages. Best entries will be selected on the basis of science content, creativity, innovation and relevance to the theme. Here are some samples to get idea:
http://www.jonchad.com/books.html
https://www.mohfw.gov.in/pdf/Corona_comic_PGI.pdf
https://jigyasa-csir.in/ccmb/t2-m5/
As part of the "Jigyasa Vigyan Mahotsav 2022", a Science Comic Competition is being organised for school students from Class 8th to 12th.
Science Fiction Competition
As part of the "Jigyasa Vigyan Mahotsav 2022" , a Science Fiction Competition is being organised for school students from Class 8th to 12th.
Unleash your powers of scientific fantasy and imagination to create a fictional story that is creative and at the same time grounded in science and get a chance to win exciting prizes. Come up with creative stories that highlight imaginative solutions to issues that humanity wrestles with, such as, Energy, Health, Artificial Intelligence, Climate Change, Water Conservation, Disaster Mitigation and Agro-technology. The science fiction story should be original and unpublished. The stories, in not more than 2000 words, may be in English or Hindi.
Infographic Competition
Are you creative, have an interest in graphic design and also want to address global challenges with your out of the box thinking, then this is the right opportunity. Come join us and participate in this national level online "Infographic Competition" in the domains of Energy, health, Artificial intelligence, climate change, water conservation, disaster mitigation and Agro technology.
Infographics is a visual representation of ideas, data, knowledge that present your creative thoughts quickly and clearly. Your Science Infographic should highlight the given domains & must contain three parts: content, visuals, and knowledge.
Some of the pointers to be kept in mind are:
Infograph can be in the form of a chart, diagram, or illustration, and usually involves minimal text that is lucid.
Present data clear & accurately.
Poster/Infographic should not be open to multiple interpretations.
Good use of white/blank space and visually appealing color scheme with clear font size.
The poster can be either English or Hindi
While developing posters, you may note that the submission of your art work must be in JPG/ PNG/Pdf format that has sharp high resolution images. Please note that screenshots of art work are not acceptable. It is also to be noted that "use of any copyrighted artwork will lead to disqualification".
Videos
Videos are an exceptional communication medium to demonstrate a concept and engage the audience. A video, even if it's just voice over a screen recording, provides a valuable explanation that cannot be gained from text alone. Videos will let you establish authority over the scientific message you wish to communicate. Please refer to the below-given links to create short and beautiful scientific videos.
1. https://jigyasa-csir.in/activities/?cont=Video
2. http://thescientistvideographer.com/wordpress/
App development
This is an Apps World. With smartphones and tabs in both the hands, apps have become an integral part of human existence in 21st Century. Be it service for car cleaning to web development to personal hygiene, you name it and you will find a plethora of app options.  An app (short form of application) is a software program specifically written to be run on mobile devices like phone, tablet or watch. But the user friendliness has made apps an inevitable choice for other devices too.  We invite young minds to showcase their creativity and productivity with some use cases for App development. The apps should be targeted for Android devices and based around the Themes of the Jigyasa Vigyan Mahotsava 2022. It should be an original content and shall be judged accordingly.
Animation
Animation is a creative art of drawing sketches of objects and presenting them in a relay. Animation is created by choosing an image / object or a sketch (also called frame) for the story you desire to animate. This would consist of using the frame by giving it an effect of slight movements to produce a series of similar yet different frames to show the continuous effect like a real time movie. In other words, it would bring two distinct objects closer in motion. Making animation needs an artist (or someone who could sketch) who passionately makes many objects of frames unlike video makers who may use only a camera or phone for making videos.
An animation is driven by either a concept or a theme that drives the user to animate for easy understanding or for younger students to have continuous engagement to the story line or a lesson that needs to be conveyed. It usually begins with the artists who makes a script and through imagination creates characters. Once these are done they are developed using software and a music or narration to arouse interest.
Students through this competition of 'Jigyasa Vigyan Mohotsav 2022' we are giving you a chance to try out animation for a theme of your choice. You may follow the rule of using freely available software (FOSS – free open source software) and also keep the animation to 0.50 seconds to 1 minute or less than 0.50 seconds only. Please also look at the message you would like to convey to the nation.
Come forward and join the competition. We would like to hear from you. So show us how you can make a difference.
tab 4
Two Boot Camps will be conducted for Registered Students to prepare them for participation in the competition:
Boot Camp I (10 - 14 January 2022)
This will be on the scientific topics of 'Energy, Health, Artificial Intelligence, Climate Change, Water Conservation, Disaster Mitigation and Agrotechnology' by experts, during second week of January (10th to 14th January) 2022, for the students to gain exposure and understanding into these areas.
There will be a quiz conducted at the end of each lecture during the boot camp.
Students who qualify after the quiz get to attend Boot Camp II on content creation that would be organized by the CSIR.
All the participants of this bootcamp will receive Participation e-Certificate.
BOOTCAMP I - Thematic Bootcamp
10-14 January 2022
SNo

Watch

Nodal

Theme

Date

Time

Speakers

1
CCMB
Health
Jan 10, 2022
2-4 PM
Dr. Shravanti Rampalli, CSIR-IGIB
2
CSIO
Energy
Jan 10, 2022
4-6 PM
Dr. Vijayamohanan K Pillai, Professor, IISER (Tirupati)
3
SERC
Disaster Mitigation
Jan 11, 2022
2-4 PM
Dr. Gomathinayagam, Former Director-General, National Institute of Wind Energy (NIWE)
Dr. Dipyaman Ganguly, CSIR-IICB
4
IIIM
Agro-technology
Jan 12, 2022
2-4 PM
Dr. E.V.S.Prakasa Rao, Honarary Scientist, CSIR-4PI
5
CEERI
Artificial Intelligence
Jan 12, 2022
4-6 PM
Dr. Anurag Agarwal, Director, CSIR-IGIB
6
NCL
Climate Change
Jan 14, 2022
11-1 PM
Dr. Milind Mujumdar, Scientist EI, Indian Institute of Tropical Meteorology (IITM, Pune)
7
IITR
Water Conservation
Jan 14, 2022
4-6 PM
Dr. T. Pradeep, IIT Madras
BOOTCAMP I - Certificates
10-14 January 2022
BOOTCAMP II
17-25 January 2022
SNo

Watch

Theme

Date

Time

Speakers

1
Comic
Jan 17, 2022
2-5 PM
Argha Manna (Comics Artist)
2
Science Fiction
Jan 18, 2022
2-5 PM
Dr. Arvind Mishra (SF Writer & Secretary, Indian Science Fiction Writer's Association)
Dr. T. V. Venkateswaran (Scientist F, Vigyan Prasar)
3
Infographics
Jan 19, 2022
2-5 PM
Ipsa Jain (Science Illustrator)
Disha Chauhan (Visual Artist)
4
Videos
Jan 20, 2022
2-5 PM
Nimish Kapoor (Principal Scientist, Vigyan Prasar, Department of Science & Technology, Govt. of India)
5
App Development
Jan 21, 2022
4-6 PM
Taranpreet Singh (Android Developer)
6
Animation - Mentoring
Jan 22, 2022
2-5 PM
Ipsa Jain (Science Illustrator)
Ashif Sadique (Sr. Graphics Designer, Web Developer, Content Creator Arronic)
Tarique Mahmood (Sr. Graphics Designer, Animator & VFX artist Arronic)
7
Animation - Handholding
Jan 23, 2022
11-1 PM
Ashif Sadique (Sr. Graphics Designer, Web Developer, Content Creator Arronic)
Tarique Mahmood (Sr. Graphics Designer, Animator & VFX artist Arronic)
8
App Development
Jan 25, 2022
4-6 PM
Nidhi Mangal (Coding & Gaming Coach)
BOOTCAMP II - Certificates
17-25 January 2022
Terms and Conditions:
The Competition is free to enter.
Participants must be Indian Citizen.
A single student can apply or a team of 2 to max 5 students may submit an application
The total prize will be provided to a team, in case team wins, and not to individual team members. Certificates will be issued to individuals in a team, in case team wins
In a team, students from non-science background may also be included, however, the content developed must be science based.
Entries are invited from students of class VIII to XII.
Medium of Competition can be Hindi or English.
You may choose one of the domains (Energy, health, Artificial intelligence, climate change, water conservation, disaster mitigation and Agro technology) to design your art work.
Decision of the panel of judges (to be constituted by CSIR) would be final.
The Science Poster/Infographics submitted for this competition would be considered the property of CSIR.
Present data clear & accurately. The content developed should not be open to multiple interpretations.
Avoid controversial topics as well as issues that might invite controversy.
We encourage students to take creative approaches in the use of and concepts
Entries that use copyrighted artwork/ material will be disqualified.
Declaration:
I hereby declare that all the information given above is true and correct to the best of my knowledge. No copy right material is used in this content.
I also give ownership and sole rights of the content developed by me to CSIR for them to post in their public domain.
tab 6
tab 7
tab 8
This competition is for students to think creatively on Health, Energy, Disaster Mitigation, Agro-technology, Artificial Intelligence, Climate Change and Water Conservation and leave a strong message to the readers / viewers. Participant of this competition can submit Comics, Science Fiction Stories, Infographics, Videos, Apps or Animated Videos on any of the above topics.
Any creative that the participant develops should focus on a short background, extending to challenges and ending with a solution or a futuristic method to control or take stock of the situation for example reduce / recycle / reuse or altogether an innovation to make better providing economical approaches / methods for the challenges. Students may also create general awareness contents in each of the domain and submit.
A. General Rules and Regulations for all submissions:
Terms and Conditions:
The Competition is free to enter and the participants must be Indian Citizens.
Entries are invited from students of class VIII to XII. A single student or a team of 2 to maximum 5 students may apply.
An individual or a team may win the prize. If an individual wins, the total prize will be provided to the winner, however, if a team wins, the total prize will be provided to the team. Separate certificates will be issued to each team member in case team wins.
In a team, students from non-science backgrounds may also be included, however, the content developed must be science-based.
No request for addition or deletion of team members would be entertained after submission.
Creatives on Comics, Science Fiction, Infographics, and Videos can be made in English or Hindi. Apps development and Animated videos must be developed in English alone.
You may choose one of the domains (Energy, Health, Artificial Intelligence, Climate Change, Water Conservation, Disaster Mitigation and Agro-technology) to design your creative and should present in a simple language.
Decision of the panel of judges (to be constituted by CSIR) would be final.
The contents submitted for this competition would be considered the property of CSIR.
Present data clearly & accurately. The content developed should not be open to multiple interpretations.
Avoid topics that might invite controversy.
We encourage students to take creative approaches in the use of concepts.
Your content can be hand-made or created digitally. If any images / drawings / pictures or content of any other kind are used from other sources in your entry, they should be complying with copyright laws and their sources should be mentioned.
All submissions should preferably be based on FOSS (free open source software) and freely available tools / images etc.
Refer/cite the sources used appropriately.
Formats for submission:

a. Comic and Science Fiction - .pdf format
b. Infographics – JPEG format with size less than 5 MB
c. Videos and Animation - .mp4 format
d. App development - .apk format with support document in pdf format.
B. Specific Technical specification:
These are the criteria's which are in addition to the ones mentioned in the general rules and regulations:
Comics:
Comics should have minimum 3 and maximum 6 panels.
The comics should have panel grid, gutter, and speech bubbles.
The comics should be scanned at 300dpi resolution and submitted as a pdf file.
Science Fiction Story:
The limit of words could be 1000 words or one and half page of an A4 size word document containing the following specifications:
Top margin: 1 inch (header 2 inch), Left margin: 1.5 inch, Right margin: 1:00 inch, Bottom margin: 1:00 inch (footer 2 inch)
Footer (2inch) should contain the page number, grade of the student.
Header (2inch) should contain the School name with State Name, Student Name, Rollno.
Font size for heading: 14 – Arial font, bold
Subheading if any: font size 12 – Arial, underlined
Content: font size: font size 12 – Arial font
Title of the story / essay: Center, Bold, 14 size font.
Please use justify (ctrl+j) format alignment to the content wherever you use paragraphs.
Space between 2 lines may be 1.2 (line spacing -multiple – 1.2)
One or two freely available or non-copyright pictures or hand-sketched or drawn on paint etc. presented at appropriate places to create an impact of the content / storyline could be added.
The writeup may be in two columns for readability.
Make it attractive and presentable to go with the storyline.
Infographics:
Content: Covers topic clearly with appropriate details and examples.
Design and Layout: Makes excellent use of font, colour, graphics, effects, etc.
Graphics/Images: All graphics/images are related to the topic and make it easier to understand. All images should be original or comply with copyright laws.
Videos:
The videos must reflect originality of idea, creativity, clarity of message depicted and technical parameters of sound and the picture quality.
The video must be developed keeping in mind the timing (3-5 minutes), continuity, audio-visual quality, steady camera operations and editing highlighting smooth transition between the frames.
The video must be submitted in mp4 format.
The participants must use the FOSS tool (free open source software) for generating the videos.
The participant may use background music but it should be copyright free.
The participants' name, registration number, school name, state name, title of the video and the theme name should be mentioned in the first frame of the video.
The end frame of the video must have the picture of the participant or the team / group picture in case of group submission.
The participants may use a narrative / voice over for the feasibility of concept execution.
App Development:
Source code of the application has to be submitted.
The app should preferably be developed using Free and/or Open Source Technologies or Platform.
The developer has to mention the programming language, scripting language, IDE and database platform used in developing the app.
Developer has to mention the sensors (like camera, BT etc) used by the app.
A video of max duration 90 seconds, prepared by capturing the screen showing the functionality of the app must be submitted.
Submissions will be accepted in both Hindi and English.
Mention the template source and/or references used in developing the app.
Participants are requested to submit the working mobile number/email ID for further communication/queries.
For App development, the description document should have relevant screenshots of the app screens. Not more than 1.5 page or 1000 words.
The supporting document to be submitted should contain: i) Name of the student with registration number, ii) Title (short title), iii) Objective (in 50-75 words), iv) Storyboarding (free style not more than 1 page), v) Challenge addressed (50 words), vi) Research carried out if any (bulleted points, 150 words), vii) Overall message (75 words)
Animated video:
The time duration of animation may not exceed 1 minute 30 seconds.
Thumbnail of the Video: The Title and the theme name at the top. It should contain a graphic / picture / collage on the theme on which it is focused with the title of the animation video. For example, Title: Air Pollution, Theme: Climate Change.
Content: The story should show the concerns / challenges / problems areas and Futuristic / Meaningful ending / recommendation.
End Screen / Frame of the Video: i. End screen of the animation should have the picture of the student if individual submission.
ii. team / group picture if it is group submission (More than 1 member but not more than 5 members are allowed for Group submission)
iii. The names, registration numbers, school names with state name should be mentioned in end screen / frame of the video
The student may use a narrative / voice over / dialogue or balloons to show dialogues or gestures.
The student may or may not use background music but if it is necessary, they should go with non-copyright or freely (royalty free with appropriate credits) available music.
Preferably use FOSS tool (free open source software) for generating animation video.
A google drive could be shared if the file is large and not getting submitted. The drive should be supported with request to view and upload provision.
References & acknowledgement if any- that could be online or offline referred by you in the making of the animation video.
C. Evaluation criteria:
Novelty, innovativeness and scientific accuracy of the content.
Originality of the content, out of box thinking and aesthetics of content.
Creativity in presentation of the story/ video.
Visual appeal, artistic merit, perceived vitality of the topic to be considered while judging.
Correctness of science narrated.
Imagination/ futuristic approaches wherever necessary.
Overall impact and impression.
The content must have appropriate title, proper storytelling with start, flow and end.
Clear drawing (not necessarily good drawing) so that different elements are identifiable.
Proper usage of panel grid, gutter, and speech bubbles wherever necessary.
No spelling mistake in the text.
Quality & Clarity of pictures /images / overall submission.
Security & Safety of the App developed / knowledge shared.
Readiness for the app store.
Colours to enhance visibility and appearance.
Usability and applicability of apps/ videos and animation.
D. Scientific Criteria:
Content should be science or scientific imagination-based content, futuristic approach (something that we cannot seen presently but it could be visualized possibly in future especially in science fiction).
The content must be scientifically correct and verifiable. It may be integrated / observations from real-life/ real-world experiences. Incorrect content will be rejected.
The content developed should demonstrate the science effectively communicating the issues/ solution suggested / awareness etc. on the focused theme with clear and crisp message.
DISQUALIFICATION:
The content should not be derogatory to any gender or community or group.
Controversial topics may be disqualified.
Entries that use copyrighted artwork/ material will be disqualified.
Plagiarized content (that is copied from the internet or other sources) will be disqualified.
For any queries related to Jigyasa Vigyan Mahotsav 2022, please write to k.shreedhar@csir.res.in
Upto 75 winners will receive cash Prizes and certificates.
Grand Prize: Rs. 1.00 Lakh each for top 5 contents
Gold Prize: Rs. 50,000 each for the next top 10 contents
Silver Prize: Rs. 20,000 each for the next 20 contents
Bronze Prize: Rs. 10,000 each for the next 40 contents
* Contents may be from any creatives submitted
For any queries related to Jigyasa Vigyan Mahotsav 2022, please write to k.shreedhar@csir.res.in
| SNo | Prize | Registration Number | Individual / Group | Students Name | Grade | Full Name of the School | State |
| --- | --- | --- | --- | --- | --- | --- | --- |
| SNo | Prize | Registration Number | Individual / Group | Students Name | Grade | Full Name of the School | State | Theme | Creative Type | Description |
| --- | --- | --- | --- | --- | --- | --- | --- | --- | --- | --- |